The Washington Chestnut Company offers fresh chestnuts for sale at BuyFreshChestnuts.com right from the farm in northwest Washington State. Orders can be shipped to anywhere in the USA, including California. Chestnuts grown in Northwest Washington experience a cool growing season resulting in sweeter chestnuts, just like the chestnuts from the mountains in France and Italy. The cool growing season also has the chestnut trees hold on to the nuts much longer than warmer growing areas. Later falling chestnuts is good for you because the chestnuts will not have been in cold storage for weeks, giving you the freshest chestnuts possible.

We use best practices methods to manage the orchard and the delivery of the fresh chestnuts to you. Our most important best practice is to help you enjoy chestnuts to their fullest. We look forward to being your chestnut farm of choice when you are in the market for fresh chestnuts.

Enjoying fresh chestnuts in your diet is a great choice. Chestnuts are low in fat, gluten free, high in fiber, and they taste great. It is hard to find a better tasting food item than fresh chestnuts. Chestnuts are also a very versatile ingredient for many types of dishes aside from just eating it fresh from the roaster. From soups to salads, main dishes, and even deserts, chestnuts can be a part of each and every one. To get started using chestnuts in your culinary dishes, order some chestnuts right from the farm where the chestnuts are grown by placing your order today. This is our order form or you can call us toll free at 1(877) 966-7158.

Chestnut trees for sale directly from the grower. Thinking about growing your own chestnut trees? It takes from 3 to 12 years for a chestnut tree to start producing chestnuts. Also, chestnut trees require at least 2 pollen producing trees to produce nuts. So plan on having at least 2 chestnut trees. You will also need a little room. Each chestnut tree needs about 30 feet from any other tree or shade producing structure. And one other thing, do not plant chestnut trees in clay soil. We currently have chestnut seedlings of American chestnut trees and European hybrids for sale. Grafted chestnut trees are availalbe for sale for these chestnut cultivars: Bisalta #3, Belle Epine, Colossal, Marigoule, Marival, Precoce Migoule and about 30 more grafted cultivars (see our products page for more info). If you wondering which chestnut trees are best for you, our chestnut cultivars page has a write up discussing many of the chestnut trees that can be grown in the Pacific Northwest.


Chestnut News

October 23, 2017 - There is a New Chestnut Beer in Town - Wander Brewing released their Nitro Chestnut Brown beer. This Chestnut Brown is the first chestnut based beer to be produced in Northwest Washington. The beer is described as "Classic English Brown Ale brewed with Patagonian grown malted barley and locally harvested chestnuts from Washington Chestnut Company. 5.5% ABV". Stop in and give this beer a try at Wander Brewing in Bellingham, WA. Read more about the chestnut beer Chestnut Brown Beer
---
September 17, 2017 - Dealing with Winter Damage in the Chestnut Orchard
Winter can be some difficult times for chestnut trees. The good thing about winter in the chestnut orchard is there are almost no bugs chewing on the new growth. The bad thing is the cold can damage or even kill the trees. Read more about how harmful winters can be.
---
January 2, 2017 - Winning the Battle of Phytophthora in a Chestnut Orchard
One of the most devastating sicknesses for a chestnut tree is phytophthora. In a single growing season, a health chestnut tree can contract phytophthora, slide into poor health and die. Read more about phytophthora and chestnut trees.
---
July 13, 2016 - Custom Propagation of Chestnut Trees
Over the past 4 years we have been propagating chestnut tree cultivars that are very challenging to accept grafts. We have put a lot of resources into developing methods to increase the success rate. Many of these cultivars have a very low demand from our customers. For this growing season we will have almost all our cultivars available through regular orders. For the growing season 2017 we are changing the following cutlivars to custom order/custom propagation:
Eaton
Jenny
Maron De Susa
Marrone de Chiuse Pesio
Marrone de Comballe
Okie
Red Aussie
Qing
Yixin Large
Yooma
If you wish to order any of these cultivars please call in to place your order. We will need 2 years lead time. The price for these trees will be $54.00/ea starting in 2017. Payment must be made at the time of the order. Orders can not be cancelled.

---
February 19, 2016 - N in the Forecast
This article looks at data associated with the application of nitrogen (N) in chestnut orchards. Nitrogen is one of the most important nutrients in the soil and has the most impact on the performance of chestnut trees. Supplemental Nitrogen in Chestnut Orchards. A must read for anyone, hobby or commercial chestnut producer.
---
November 9, 2014 - Selection a Chestnut Cultivar
The perfect chestnut tree for one chestnut producer may not be the perfect chestnut tree for someone else. How does someone just starting out with their initial planning a commercial chestnut farm get started? This article titled "Chestnut Tree Perfection: The Selection of a Cultivar" is a great place to start.
---
October 10, 2014 - Evaluating a New Cultivar
We propagate so many chestnut trees one would think we would come across a chestnut tree that produces better chestnuts than the parents. Almost all the cultivars we have in our inventory are "large and sweet" so to get a chestnut that is better than what is already available is a long shot. This year we do have a new tree worth giving more attention to. While evaluating this new tree we will give it a name of Aywonko (A 1 ko). Beyond the sweet and large, this chestnut has a great traditional European texture and a great chestnut flavor. On the down side, this year the nuts are difficult to peel. We will keep Aywonko around for a few years to see if the difficulty in peeling goes away with the age of the tree.
---
August 10, 2013 - Making Super Star Chestnut Trees
Remember those days when we were kids, we would say things like, "I want to be a movie star", "I want to be a fireman", "I want to be a model", "I want to be anything as long it is something special". Most chestnut trees are born from a seed resulting in what we call a seedling. Being called a "seedling" doesn't sound like something special, especially when we call some of the super stars... Read the entire Making Super Stars article
---
June 12, 2013 - Nursery tree production tops 5,000 chestnut trees
This year Washington Chestnut Company completed propagation of over 5,000 chestnut trees. For those people who have been waiting for the Marrone chestnut trees, the trees look good this year and we will be able to ship your trees late this fall. We are already working on our propagation plan for 2014, since we have to pack away enough chestnuts this fall to start the new trees. Our current plan is to increase production in 2014 to 8,000 trees.

Starting in 2014 we will begin research into clonal propagation of rootstocks with the hopes to find chestnut rootstocks well adapted to many chestnut tree cultivars and growing conditions. Even though we have several candidate rootstocks to start working with, the process of trialing and monitoring results will take many years. The reason why there are only a few commercial nurseries producing chestnut trees is because of the low yields on grafted chestnut cultivars. With a clonal rootstock the yields should be able to be get closer to the yields achieved by the apple tree nurseries.
---
January 13, 2013 - Grouping and Sorting Chestnut Tree Cultivars
Selecting chestnut trees for your orchard can be a daunting task with so many different chestnut tree cultivars to choose from. This article might help you find the perfect selection for your orchard by grouping chestnut trees by some of the characteristics chestnut orchardist use to select their chestnut trees. Grouping Chestnut Trees
---
Washington Chestnut Company is a producer of fresh chestnuts from its orchard operations and chestnut trees from its nursery operations. The nursery operations offers over 30 named chestnut cultivars to commercial chestnut producers, retail garden and nursery stores, and direct sales to the public.


Nursery Update - April 28, 2018
Sales of chestnut trees is done for the season. We will start shipping trees again in Dec, 2018. We do accept orders for later shipment. If you are planning to start an chestnut orchard or add to an existing orchard, please place your order for trees before September 1, 2018. Orders for trees are held with the oldest orders getting priority on trees.

Orders for chestnut trees can be made online on our e-store BuyFreshChestnuts.com


---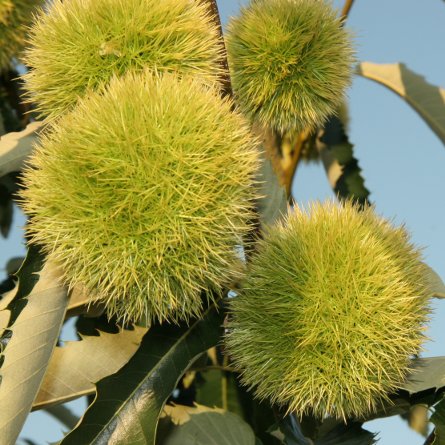 Chestnut burrs nearing harvest time


---
Local Stores featuring our chestnuts

Haggen Barkley
Haggen Meridan
Haggen Burlington
Haggen Ferndale
Haggen Seahome
Haggen Fairhaven
Haggen Mt. Vernon
Bellingham Food Co-op

---
Blight Resistant American Chestnut Trees
Over the years people have called asking if we have the kind of American chestnut trees that is blight resistant. After consulting with the experts we have decided we will not propagate these trees. The primary reason is the seed and plant tissues would have to come from the Eastern USA where there are bad bugs, blight, and a few other things we never want to see in our orchards. The only place to get these trees is from the American Chestnut Foundation.


Taking Chestnuts into Canada
Residents of Lower British Columbia are allowed under NAFTA to bring fresh chestnuts produced in Washington state to Canada. We work closely with the Ag inspectors to make sure our chestnuts meet all requirements to allow you to enter Canada with fresh chestnuts. If you would like to pick up some fresh chestnuts from us please call ahead so we can have your order ready for you when you arrive. Our phone number is (360) 966-7158.

What to do with chestnuts
Chestnuts are an incredible food item. Some people eat them raw, but most eat them cooked, kind of like potatoes. We all have heard of people who will eat a potato raw. Well there are people who eat chestnuts raw too. Chestnuts must be stored properly between the time the chestnuts are harvested to the time the chestnuts are consumed. For details about the important handling, preparing and cookng of chestnuts see our page on storing and preparing chestnuts.


Contact Information:
Washington Chestnut Company
6160 Everson Goshen Rd.
Everson, WA 98247
Ph: (360) 966-7158
Fax: (360) 966-7994
Email: chestnuts.wa@gmail.com